Our Doctors found a great article on: medical devices and drugs update for obstructive sleep apnea; click on this link to read full article:
Medical Devices and Drugs for Sleep Apnea
---

In a recent survey, 100% of our patients said they will recommend us to family & friends! 98% of you reported that you are satisfied with the time our doctor spent with you. 93% of you said you are satisfied with the amount of time you spent in the waiting room. And 100% of you said you would refer us to a family member or friend.
We love our patients!
---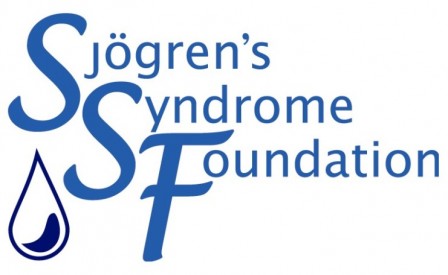 Dr. Scott Gold to Speak at Sjögren's Syndrome Foundation
Sjögren's Syndrome is a chronic autoimmune disease in which the body's white cells destroy the exocrine glands, in particular the salivary and lacrimal glands. Dr. Gold gave a talk on this disease, as he has a comprehensive knowledge of the syndrome and its many manifestations.
Saturday, March 8th, 2014
1:00-3:00pm
St. Peter's Church
Plaza Room
619 Lexington Avenue (entrance is on 54th Street)
New York City
---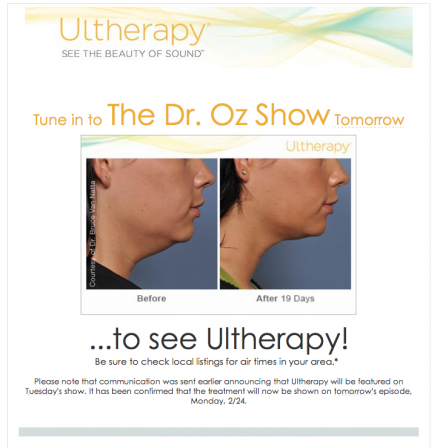 ---

Dr. Pincus gave a continuing medical education lecture on the loss of smell and taste (anosmia)
Olfaction 2014 Lecture by Dr. Robert Pincus
---
---
---
Dr. Sperling was invited back to the 3rd annual India ENT conclave, in Calcutta and Chennai, 
to speak on Stapes Surgery and Ear Drum Repair.
---
Other recent lectures:
Grand Rounds Presentation SUNY-Downstate College of Medicine: Tympanic Membrane Retraction
International Otology Course, Beziers France: Stapes Surgery Panel Moderator
---

The New York Otolaryngology Group (NYOG)
Go Live With SurgiMate

NYOG selects SurgiMate ESRM to complement
their Greenway EHR system

SurgiMate, the market leader in surgical management solutions, applauds The New York Otolaryngology Group (NYOG) for going live with SurgiMate ESRM earlier this week.
The eight surgeons at NYOG are renowned as "The Ear, Nose and Throat Specialists" in New York and have been recognized among New York City's foremost doctors within their fields of specialization.
Marilyn Plomann, Practice Administrator, explained why NYOG chose SurgiMate. "Greenway PrimeSuite, our EHR, did not have any functionality to support our surgical scheduling workflow," said Plomann, "SurgiMate ESRM will complete those tasks and complement our EHR."
With surgeons consulting patients at four different office locations, a lot of paperwork had to be manually transferred between offices. "Even after we had implemented our EHR, there was paperwork all over the place," said Plomann, "it was not an efficient way to manage a business!"
SurgiMate ESRM will automate every step of the surgical scheduling process at NYOG, and streamline their workflow. There will now be one central location where all information surrounding surgical scheduling is stored and readily accessed.
"SurgiMate will definitely improve our communication," explained Plomann, "The surgeons will easily be able to find out the status of each surgery, and our billing and scheduling departments will now be able to transfer information electronically."
From the schedulers' perspective, productivity will increase considerably since all paperwork will be generated automatically, and insurance authorizations will be tracked electronically. "We will be able to identify the status of an authorization with a few clicks," explained Maggie Sachson, surgical scheduler. "SurgiMate will definitely help things run more smoothly."
"We are delighted to welcome NYOG to the SurgiMate network," said Justin Rockman of SurgiMate. "SurgiMate is excited to expand our customer base to include one of New York's leading Otolaryngology practices. SurgiMate is a winning solution for any surgical practice in any specialty. We look forward to working with NYOG to help improve their operational efficiency and maximize their surgical revenue."
"We are really excited about SurgiMate" added Plomann, "and we are looking forward to seeing how SugiMate will change our office!"_______________________________________________________________
2nd Indian ENT Conclave 2012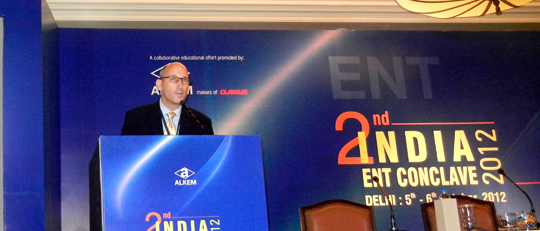 Dr. Neil Sperling speaking at the 2nd Indian ENT Conclave 2012 in Dehli, and Mumbai, India.